If you're planning on dipping your toes in the acting industry, then you'll need to get used to having busy days filled with casting calls and acting auditions!
The best way to feel confident and calm is by making sure that you have all the supplies you need to make your audition a success, so make sure that you have the following in your bag: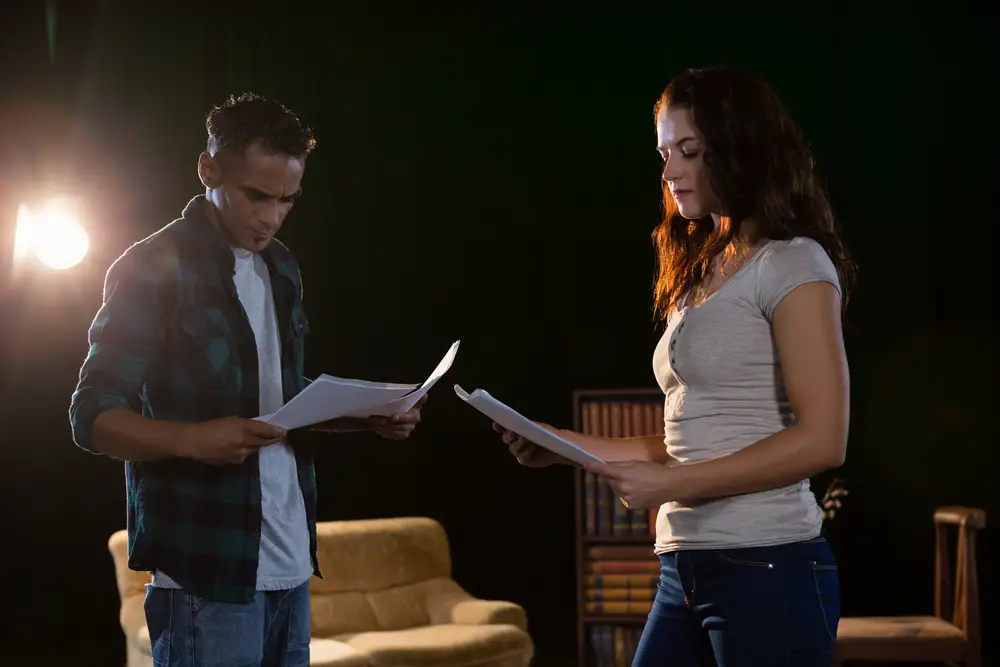 Water: The last thing you want to happen is to get into that room filled with the casting directors and suddenly get a dry throat! Make sure that you have a bottle of water with you throughout the day so that you'll be able to stay hydrated and nail your lines.
A pen or pencil: Sometimes, casting directors may invite you to do a 'cold read' which is a type of audition that consists of being given a script you have never seen before, so you only have a small amount of time to prepare for it. Having a pen or pen will allow you to circle, scribble and underline your lines, which will help you retain your part of the script.
Makeup: We also recommend that you consider bringing along some makeup so you can touch up throughout the day and remain presentable for the casting directors. If you're not a regular makeup wearer, powder or blotting paper are great products to keep with you, as they will help to control shine from natural oils that will build upon your face, particularly in the T-Zone area. 
Resume and headshots: Make sure that you have updated headshots, a resume, and a showreel (although, most times you will be able to digitally send your showreel to the casting directors prior to the audition day).
Snacks: This is an important one to remember! Many actors have more than one audition in a day, so you'll need to make sure that you have food to eat throughout the day.
How do you kill an audition?
If you dream of being the next star of a television show or movie, then there's one thing that you need to do to land a role – and that's ace the audition! Here are some tips to follow:
Make the first impression count: One surefire way of nailing your audition is by making sure that you are polite and professional to the casting directors. If you are rude or do not follow instructions, you may be seen as difficult to work with and dismissed from their shortlist.
Arrive on time: If you want to be taken seriously by the casting directors, then it's important that you make sure you are not late. We recommend that you arrive at your audition a little early so that you have time to prepare, familiarise yourself with your surroundings and go over your lines. 
Be Confident: The easiest way to stand out from the crows is to be confident and command the room. Speak with clarity, maintain eye contact, and do your best to transform yourself into the character to show the casting director you are capable of playing the role.
How many auditions do actors go on a week?
There's no set answer to this question, as the number of auditions an actor will go on each week greatly depends on how popular they are, how much experience they have, how reputable their agent is, as well as how much of a demand there is for actors at the time. If you're serious about getting work as an actor then you should make sure that you are regularly preparing audition material for the type of roles that you want to obtain, all the while looking for suitable auditions to go on with the help of your agent.
What do they ask you in acting auditions?
An audition is essentially an interview, so there is a chance that the casting directors will ask you questions. Here are some of the most common questions you might get asked:
What acting projects have you been working on?
When did you first start performing?
What type of roles would you like to be cast in?
How would you describe your natural acting style?
What is the hardest role you have played so far, and how did you handle it?
What should you not do in an audition?
No matter what, don't say sorry! One of the biggest mistakes you can do during an audition is to keep apologizing.
This is one of the biggest pet peeves of many casting directors, so the best thing to do if you make a mistake or forget a line is to stop, collect yourself and continue on as if nothing has happened.
This will show the casting directors that you are confident, able to think on your feet, and have the ability to not break character if something goes wrong.