The Royal Academy of Dramatic Art, also known as RADA, was established in 1904 and is one of the UK's most prestigious drama schools for actors, stage managers, designers, and technical stagecraft specialists.
However, individuals who are interested in acting or are simply curious might be wondering: what age can you go to RADA?
In this article, I cover some key information about RADA, from whether it is hard to get into RADA to whether you can obtain a student loan for support throughout your time at RADA.
Keep reading to find out more.
How hard is it to get into RADA?
RADA offers a variety of courses, including 3-year undergraduate courses for 18-year-olds, post-graduate courses, and some short courses that are available to 16-year-olds, too.
That being said, you must be 18 years of age to apply for the BA and to study at RADA full-time.
Considering that RADA only accepts 28 acting BA students each year, chosen from a four-stage audition process, it is notoriously difficult to get into.
This is because the name itself, RADA, is renowned for prestige: 'RADA is seen by many employers as a guarantee of quality – the epitome of British drama training encompassed by four little letters'.
As a result, then, it makes sense that the competition is strong for this drama school.
Although you might expect to need formal qualifications to be in for a chance to land yourself a place at this prestigious school, you'd actually be wrong in thinking this.
As you don't require any formal qualifications, then, everything rides on your audition.
That being said, you shouldn't let the nerves of this fact dominate your audition, as it's your one shot to show the audition panel what you can do and why they should consider your application.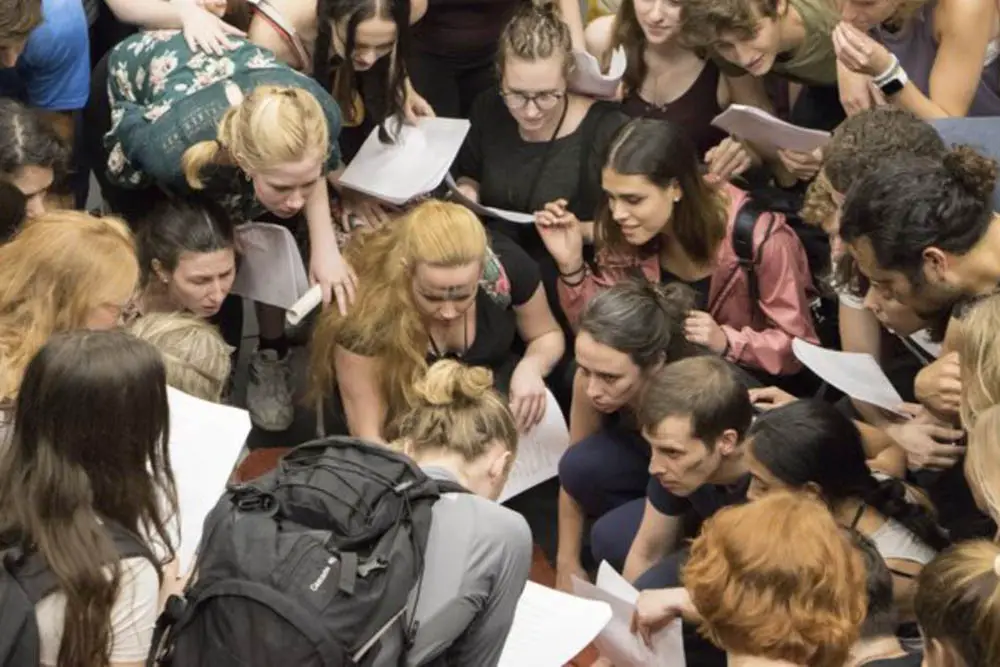 Source: https://www.rada.ac.uk/courses/
Being prepared and making sure that you make the most of your audition is essential. After all, no one wants to appear unorganized, and you'll want to make the best impression possible.
However, this shouldn't put you off when it comes to auditioning. As an aspiring actor, any audition is a great experience, and you can learn a lot from simply being in the room.
Although RADA is located in London, the auditions for a place at the school are held in a wide variety of different locations such as London, New York, L.A., and Dublin.
Alongside this, regional interviews take place in other cities across the UK, such as Manchester.
That being said, the range of places gives aspiring actors from all over the UK and abroad the opportunity to, audition, making it accessible for individuals who have not grown up in the large cities mentioned above. As a result, then, the talent pool is much wider than you'd expect!
Can you get a student loan for RADA?
Yes, RADA's courses are eligible for student financial support.
The great thing about RADA is that even though you apply directly, as opposed to through UCAS, you can still apply for financial support if you can't afford the fees.
If you're interested in auditioning but are anxious about funding your studies, you can apply for a student loan to study at RADA as it is a Registered Provider with the Office for Students.
Alongside student loans, over 50% of their students each year receive further financial support from RADA – from free applications and contributions towards living costs, to full scholarships.
That being said, RADA also offers a variety of different scholarships, the majority of which are given on the basis of income to undergraduate students studying in higher education for the first time.
You can apply for a student loan for RADA for your tuition fees and living costs (maintenance loan) if:
You are a home (UK) student.
You have not completed a course at the same level before (for instance, another BA degree).
Depending on your home/residency country, you will also be able to take out a maintenance loan to support you throughout your studies and time at RADA.
The tuition fees for the BA (Hons) in Acting costs:
UK tuition fees: £9,250 per year.
International tuition fees: £20,675 per year.
According to their website, RADA assumes that every aspiring student that auditions has the means to pay for their tuition.
In Summary 
Although RADA offers opportunities for young people under 18 including Access and Participation projects, Shakespeare Awards and Short Courses, you need to be 18 to study full-time at RADA.
If you think you're the right fit for RADA, a great place to research more is their website.
However, it is worth remembering that there are plenty of other drama schools out there if you're an aspiring actor and shouldn't feel disheartened if you don't get an audition!