When you send off headshots to casting directors you only really need to send your one 'main shot'. This will be the one you liked the most, and you might use of your social media profile photos etc.
This shot should be engaging and cover all bases, or as many bases as possible.
It is however, worth having a few others to hand should you need to showcase anything more specific.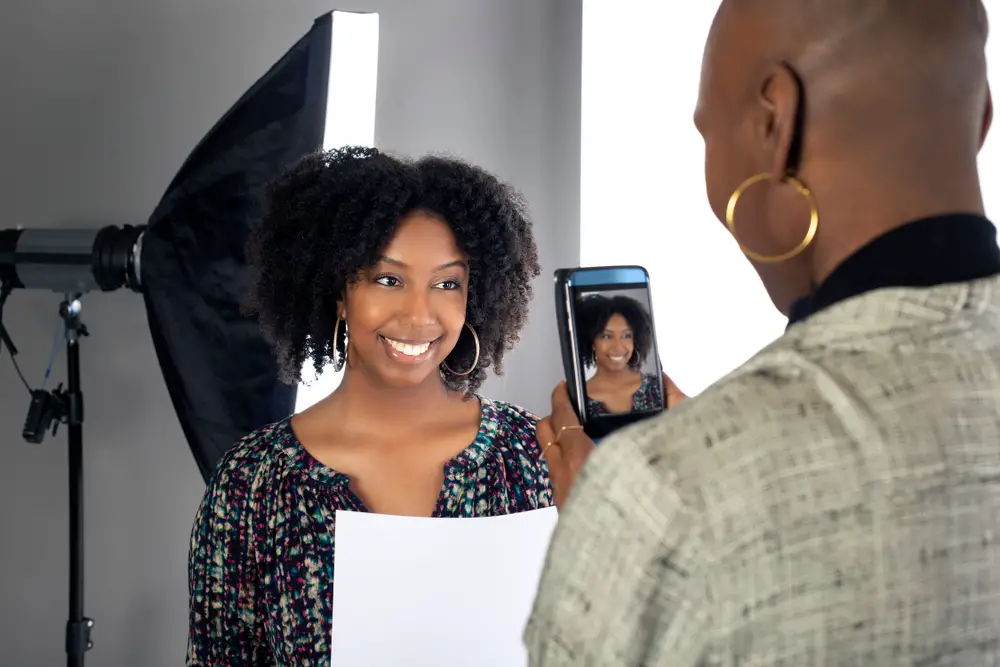 If you use an online acting portfolio it's best to have about five or six headshots on there to show your range.
The range of photos should reflect the type of castings you are looking for. For example, a classical theater role will require you to look a lot different from a modern, urban character.
Spend time working with your photographer to try out different styles and expressions to make the most out of the session and your hard-earned cash!
After one session you may come out with over 200 images, but you need to carefully pick through these to select a final five or six that best show your range and personality.
It's also a good idea to have at least two versions of the main shot, one landscape, one portrait. That way whatever the casting director prefers, you've covered both bases.
You could include one or two stills from previous roles you've worked on to further shoe your experiences and adaptability.
These will also add a nice mix to your portfolio to break up the more plain shots. Additionally, a photo showing slightly more of your body could help with certain roles.
In terms of how many headshots you will need across your acting career this will obviously depend on how long you work as an actor.
It's best to keep your headshots updated as often as possible to provide casting directors with the most accurate depiction of you.
Casting directors find it unprofessional when actors turn up to an audition looking nothing like they do in their headshots.
If you can, update them at least every two years or every year for children/ teens.
Plus, if you drastically change your appearance in some way, be it a haircut/ color change, face tattoo, you name it, you need to update your headshots.
You will also need lots of hard copies of your main headshots to attach to your resume and cover letters or for your agent to hand out at events etc.
Are black and white headshots acceptable?
The whole point of a headshot is to show a casting director exactly what you look like. So, a black and white image wouldn't be able to provide that as well as a colored image.
It would be pretty unusual for anyone in the industry to ask for a black and white headshot nowadays. That being said, changing a colored image into black and white can be done at the simple clock of a button, so it might be a good idea to have one or two at your disposal, just in case.
Black and white headshots were perfectly acceptable only a decade or so ago, in fact it was more normal to see a black and white headshot than a colored one.
But, the rules and regulations within the industry have continued to change with the times.
However, it's a good idea to find out what the casting director prefers. If you're dealing with an 'old-school' casting director then they may well prefer black and white headshots.
In the U.S., mainstream casting directors feel that black and white headshots are outdated and therefore unacceptable.
Do you need headshots to be an actor?
To make it as an actor in the U.S. it is super important you take all the necessary steps to get yourself seen and considered.
You want to show agents and casting directors how dedicated you are so, if you don't even have headshots, that's not going to reflect well on you.
Headshots are a great way to stand out in the saturated pool of wannabe actors in the U.S. Your headshot is the first thing a director or casting director is going to see and a lot of the time it can be the difference between getting an audition for that dream role and being ignored.
Not only will your headshot be the first point of contact between you and a casting director, there also great for using when submitting to agents and managers for representation, online casting profiles, social media profile photos, personal websites, and marketing materials.
Think about it like a business card, you want it to stand out and be memorable so when a casting director is thinking about whom to call, your face is the first to come to mind.