So you want to create an impressive voice actor portfolio? You're in the right place! In this article, we'll delve into the essentials of crafting a remarkable showcase of your talent as a voice actor that will grab the attention of casting directors and help you land those gigs any voice actor dreams of. The best resume for an aspiring voice actor!
From selecting the perfect voice clips to demonstrating your versatility, we'll cover everything you need to make your voice actor portfolio (or resume) stand out.
But it doesn't end there! We'll also discuss how to effectively market your file to ensure it reaches the right ears.
Get ready to make your professional voice heard in the world as a compelling voice actor. Let's dive in and explore the secrets behind creating an exceptional portfolio that will set the stage for your success!
Knowing Your Demo Types: The Foundation of Your Portfolio
What is a voice demo?
A voiceover reel or voice demo is a video that presents your vocal talents and serves as an audition for prospective clients. It is a way to give them a sample of your voice actor abilities.
As a voice actor, understanding the various types of demos is essential in building a solid portfolio. In this section, we'll dive into the different voice demo types and how to determine which ones best suit your skills and talents.
Exploring the various types of demos
Voice demos showcase your unique talents in acting in various scenarios vocally. Knowing the main categories will help tailor your demos to your target audience and make you stand out from any other voice actor with the same ability.
Let's explore the main demo types.
Commercial demos
A commercial demo showcases your voice for advertising campaigns, illustrating your capability to represent different brands and products in a distinctively memorable manner.  You could include anything from radio commercials to online video ads.
Narration demos
A narration demo showcases your storytelling abilities, highlighting your skills in engaging audiences with documentaries, audiobooks, and e-learning materials. Think of explainer videos popular on Youtube. Your narration demo reel should present your voice in an audio version of those videos.
Animation and character demos
These demos highlight your versatility in creating a unique voice for particular animated characters, video games, or any entertainment content requiring distinct personalities or accents.
Promo and trailer demos
Promo and trailer demos are designed to showcase your skills in promoting movies, TV series, or events by creating excitement and anticipation in the listener.
Determining the suitable demo types for you
Choose the best demo types for your portfolio, showcasing your strengths, interests, and industry goals. Think about the genres that excite you and the type of projects you'd like to work on.
You can also send demos for pure voiceover narration projects or voice actor casting in animes, foreign language dubbing, or animated movies.  As voice talents are getting more projects and recognized in the entertainment and advertising industries, there are now acknowledged nuanced differences that divide this niche.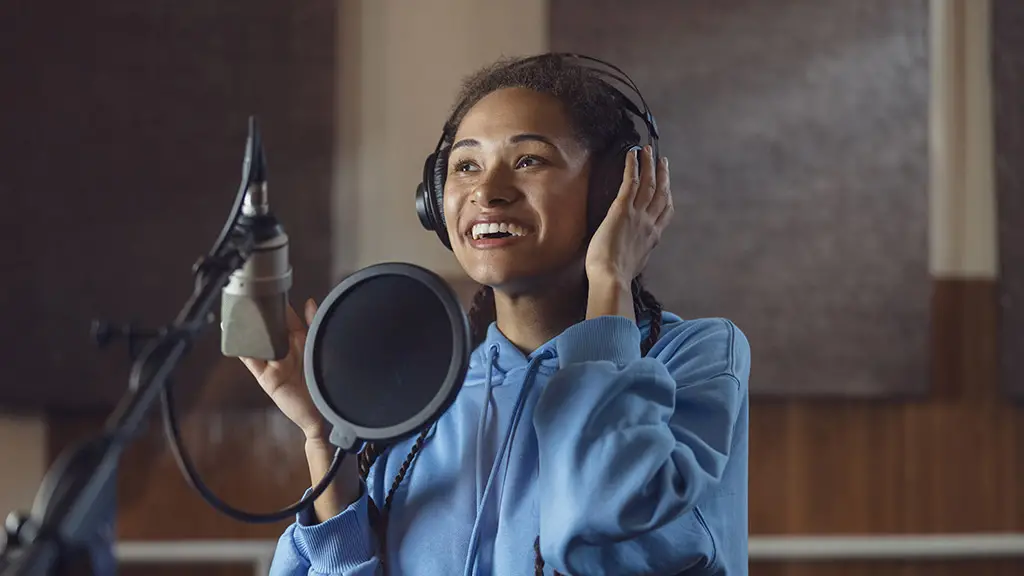 A well-rounded voice talent portfolio showcasing a mix of demo types is impressive, so experiment with different styles and find your niche. Offer samples of the types that project your talent best. Being strategic about your demo selection allows you to exhibit your range and versatility as a voiceover artist or voice actor.
Building a Captivating Narration Voiceover Demo
The essential elements of a narration demo
When creating a top-notch narration demo reel, focus on the variety of your voice capabilities. Showcase your ability to handle different voice tempos, vocal styles, and moods. Offer samples of your voice work from commercials, documentaries, and audiobooks.
Remember, the essentials of a good voiceover are
Audio clarity and volume
Pacing
Vocal tone and inflection
Pronunciation
Maintain a balance between brief sections and impactful content. Aim for a 60-90 second duration, as it provides enough time to grab the potential employers' attention without overwhelming them. And make sure your demo demonstrates your capabilities in the four elements.
Engaging your audience with storytelling
Engaging storytelling is the heart of a captivating demo. Deliver your lines in a conversational tone and let your personality shine through your voice. Conversational delivery connects with the listener and demonstrates your ability to bring a script to life.
Show off your talent and capabilities as a voice actor by incorporating emotions and different characters to portray a compelling story. Be mindful of the pacing so your narration flows smoothly and remains captivating to hear.
Ensuring your demo stands out
Invest in professional audio-visual production services to make your demo a high-quality and competitive job. Attention to detail, such as sound mixing and editing, can make a huge impact. Ensure the listener can discern no background noise or extra sound in your voice demo. Engage the professional services of a respected sound studio with the necessary equipment like pop filters.
You can also subscribe to Bunny Studio, a platform for creative services, including voice and audio. The extra cash you will be paying for these professional services will serve you well in producing your talent profile.
Curate a unique selection of scripts to avoid overly used clichés. Search for materials that would highlight your vocal strengths and capabilities as an actor and thus get the attention of any client you would target.
Exhibiting Your Strongest Work: The Key to a Stellar Portfolio
Your voiceover demo exhibits your best performances, but more importantly, it distinguishes you as a brand and a professional. Hence, you need to make time and invest in preparing your demo.
Identifying your top voice performances
You must present your best audio work to make your talent profile as a good voice actor stand out. Analyze any job you had voice acted on previously and gather those where you felt truly connected with the character and could deliver an outstanding performance the clients would like to hear.
Look for the perfect piece that shows your ability to convey different types of voices, emotions, accents, and vocal tones. Consider seeking feedback from colleagues or mentors to ensure you're making the right choices.
Creating a balanced and diverse selection
Creating a diverse and balanced representation of your vocal prowess is crucial when selecting materials for your portfolio. Start by categorizing your performances by genre, voice type, and emotion.
Then, pick the perfect piece from each category, ensuring you demonstrate your versatility in different types of voice productions without overwhelming your audience. Remember, less is more, so aim for quality over quantity.
Highlighting your unique style and range
Your talent brief should highlight your distinct style and wide vocal range, exhibiting what sets you apart from other voice actors, even those with the same ability. Consider what you bring to the table that other voice actors may not, and ensure it shines through in your chosen pieces.
Additionally, your printed resume should use bold formatting and bullet points to highlight essential information, making it easier for future clients to skim through your file and quickly grasp your skills and experience.
Experience in commercial projects, animation, voiceovers, and video games
Proficiency in various accents and dialects
Award-winning performances and recognition
Customizing Your Portfolio for Different Skill Sets
As a good voice actor, your vocal range and character versatility in expressing different emotions, tones, and characters set you apart from other voice actors. Your talent file must reflect your voice range and vocal adaptability in different types of voice projects.
In this section, we'll discuss how to customize your profile to show off your competency in various creative productions, customize it to attract specific clients or projects, and organize it for easy navigation.
Adapting your creative profile to various industries
Each industry has its preferences and requirements regarding voice talents. Here is a quick guide to help you tailor-fit your profile to different industries:
Corporate: Record your demo emphasizing professional and authoritative tones.
Animation: Present your ability to perform various character voices and accents while recording your demo.
Commercials: Show you are capable of conversational and persuasive vocal styles.
Tailoring your portfolio to specific clients or projects
Like industries, not all clients or projects require the same set of voice talents. To tailor your portfolio to a particular client or project:
Review the project/client requirements and preferences.
Emphasize relevant demos or voiceover examples that match their needs.
Include a personalized introduction elaborating on your particular expertise.
An easy-to-navigate portfolio will make it simpler for potential clients to find what they need. Consider the following tips:
Group demos by industry, project type, or vocal style.
Use descriptive titles and subtitles to convey the content of each demo.
Provide a clear boundary between different sections of your portfolio.
Voice Talent Demo Don'ts: Common Mistakes to Avoid
It is understandable to be carried away in making your demo reel, especially when you are just beginning to join this specialized group of actors. Below are the top common mistakes beginning voice actors commit as they prepare their creative voice profiles.
Using low-quality equipment
The choice of equipment is crucial in voice demo preparation, especially with a microphone. You would end up with low-quality or mediocre vocal recordings and just get disappointed. Getting the cheapest is not a wise decision. Search for the appropriate equipment according to your needs and your budget.
Over-dependence on Editing
Beginners depend on editing to fix echoes or reverberations. However, the use of too many noise reductions to fix errors will end up negatively affecting the audio quality. Instead of depending on editing to fix reverberations while recording, experts advise using a soundproof room to avoid background noise.
Poor quality demo
As your voice resumes, you must put your best foot forward in your demo. Make it focused on your industry-specific strengths. Avoid using scripts or materials irrelevant to the jobs you seek. Avoid using too many clips. Keep your demo concise with just 5-6 high-quality clips that display your best work!
Your clips must present a variety of vocal styles, accents, and characters. Include contrasting clips—such as energetic commercial reads and intimate audiobook narrations. Showcasing that variety helps prospective clients visualize your range and expertise and see you as a multi-skilled voice performer
Having mouth noises in the recording
Mouth noises are among the most noticeable beginner voice actor mistakes in a demo. These mouth noises are clicks, pops, and smacks, which we don't usually notice in regular talks, but these are amplified in a recording.
Keep yourself hydrated because these sticky sounds are made by the teeth, tongue, and saliva when dehydrated. Don't overdo hydrating because that will also create mouth noises.
Setting the audio volume too low
Clients audition for many voice demos. You will lose your edge if your volume is set too low. Normalize your audio and ensure your voice is loud enough to be heard clearly.
Remember, your voice demo is your calling card in the industry. Present yourself professionally, be strategic with your clips, and avoid these common pitfalls to create a demo reel that gets you noticed – and hired!
Keeping Your Creative Portfolio Fresh and Relevant
Maintaining a competitive edge in the voice acting industry is continuously updating and refining your portfolio. This section discusses strategies to ensure your portfolio stays fresh and relevant.
Regularly updating samples of your voice performances
Update your portfolio with new voiceover or voice acting samples that showcase your versatility and recent work. To captivate potential clients, you can rotate samples based on different projects, accents, or languages.
Staying updated with industry trends
Stay informed about the evolving voice acting industry and incorporate emerging trends into your portfolio. For example, explore new genres or delivery styles to demonstrate your adaptability and remain marketable.
Continuously honing your skills and techniques
Devote time to improving your abilities through workshops, online resources, or coaching. As you progress, incorporate your refined skills into your portfolio by replacing older, less impressive samples with improved versions.
Regularly updating your voice acting samples, staying current with industry trends, and continually honing your skills and techniques will ensure your portfolio remains fresh and relevant, attracting more clients and opportunities.
Conclusion
Building a voice talent portfolio requires a strategic approach and consistency. By showcasing your versatility and proficiency in various genres, you can capture the attention of potential clients.
Consider incorporating these elements into your portfolio:
Demo reels tailored to specific industries or types of projects
High-quality samples that highlight your vocal range and acting skills
Testimonials or reviews from satisfied clients to demonstrate your credibility
Stay committed to your craft and continually invest in your skills through training, coaching, and networking. A well-rounded voice acting portfolio will open doors to fulfilling opportunities and help you establish a lasting career in the industry.
Frequently Asked Questions (FAQs)
Q: How long should my voice actor demo be?
A: Your voice actor or voiceover demo should be 60 to 90 seconds long, and this is ideal for showcasing your versatility and skills without overwhelming the listener or taking up too much of their time.
Q: What should I include in my demo's introduction?
A: In your demo's introduction, briefly mention your name and the type of voiceover work you specialize in. Keep it concise and engaging, allowing your voice acting skills to shine through in the following samples.
Q: How do I choose the right background music for my demo?
A: Select background music that complements your voice, enhances the mood of your samples, and doesn't distract the listener. Consider the tone of your samples and match the music accordingly to create a cohesive audio experience.
Q: How often should I update my voice actor portfolio?
A: Update your voice actor profile every one to two years or whenever you achieve a new milestone in your career. Regularly updating lets you showcase your most recent work, ensuring future clients understand your current abilities and style.
Q: What are some tips for promoting my voice acting resume?
A: Here are a few tips for promoting your professional profile:
Share your demo on social media platforms and engage with the voice acting community
Network with industry professionals and attend events focusing on voice acting
Create a professional website showcasing your portfolio, background, and experience