If you're hoping to become an actor, you may be wondering whether or not acting school is necessary.
In acting school, you'll learn different acting methods, memorization techniques, audition prep, and more.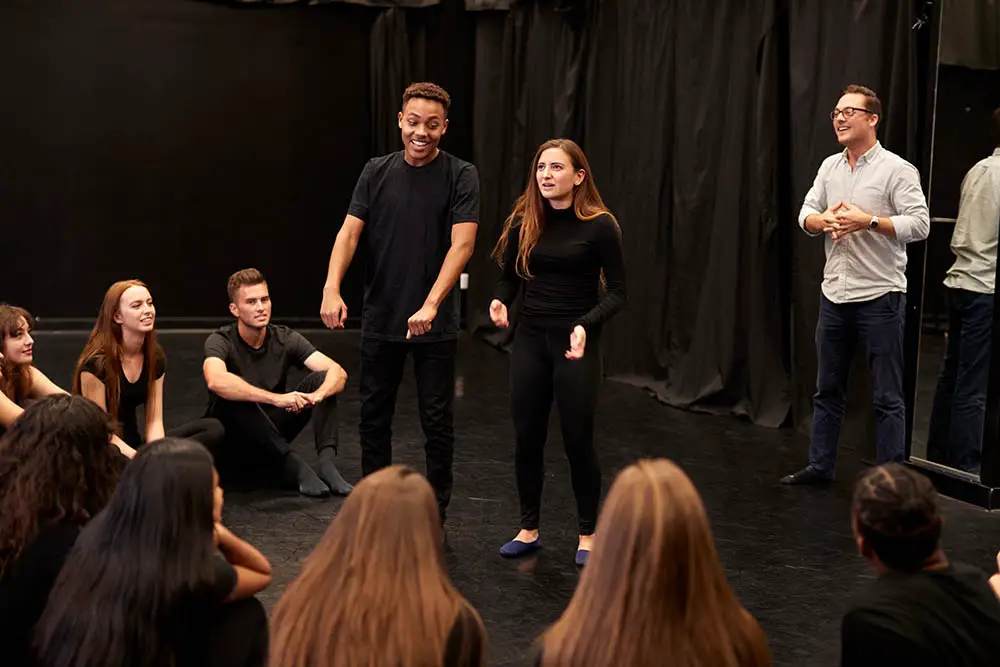 Some people believe talents such as acting, singing, and dancing are innate. Others think you can definitely teach these skills – or at least hone and strengthen them through education.
Not all great actors went to acting school, but there are definitely benefits to going.
Benefits of acting school 
Confidence 
Acting school can instill confidence in you that sets you up for the rest of your career. The fact that you have to audition to get in already provides you with some confirmation that you have talent.
Samira Wiley of "Orange Is the New Black" said attending Julliard gave her a "confidence in a way that I had never had before."
"Teachers told us, 'You were the people we picked. We want you here for a reason.' That affirmation was powerful."
Practice 
Drama school also offers you the opportunity to continually act in front of classmates and teachers, and, according to Al Pacino, this is the whole point of acting: "That's the experience.
And the more you can do that, I think the more you can understand that that's what we do."
Helps you enter the industry 
The other benefit of drama school is that it allows you to network. You go to showcases, you meet other young aspiring actors, you build relationships with your tutors.
"Drama school is great," says Chukwudi Iwuji from 'Othello.' "London is somewhere where drama school gets you into the industry."
Did Joaquin Phoenix go to acting school?
Joaquin Phoenix is currently one of the biggest actors in the industry, and you may be surprised to find out that he did not attend acting school or even college.
In fact, the actor was homeschooled for some of high school and then ended up dropping out of the education system altogether in ninth grade.
As a child, Phoenix and his four siblings performed at various talent contests, singing and playing instruments to earn money for the family, and were discovered by one of Hollywood's most prominent children's agents, Iris Burton, who got all five children acting work, mainly on commercials and television show appearances.
Do most actors attend acting school?
For every actor who attended acting school, there'll be one who didn't.
Not all famous actors go down this path, some pursued other college degrees and did acting on the side, others didn't act until later in life, and some were lucky enough to gain acting work as children.
Acting school can help aspiring actors hone their skills and become better actors, but many actors say they learned more from movie sets.
This is definitely a sentiment echoed by Joe Mazzello of 'Bohemian Rhapsody' who says the best education he got "was movie sets…I tried to watch the way that they commanded the set, or watch the way that they vibe from the set," he says.
Which actors did not go to acting school?
You might be surprised to hear that some of the best actors didn't attend acting school.
Jim Carrey has never spent a penny on acting classes. Carrey dropped out of high school to help support his family financially.
He landed several small roles, but his career didn't take off until he landed a regular role on the TV series In Living Color.
Tom Cruise is another who never went to acting school.
In his first role in a movie called Taps, he initially only had three lines, but the director liked him so much that they gave him more.
During this period he also managed to land the lead role in Endless Love.
Cameron Diaz was living in California when she was approached by a famous photographer, Jeff Dunas, who asked her who her agent was.
Diaz replied that she didn't have one, and Dunas told her to reach out to him once she had an agent.
Cameron started off as a model with Elite modeling agency while landing small roles such as 'Fear and Loathing in Las Vegas.' Four years after this she was able to kick start her acting career by landing a lead role in The Mask.
Johnny Depp also never went to acting school.
In fact, while trying to make it as a musician, he worked as a telemarketer selling ink pens over the phone.
While selling ink pens, Depp was introduced to his friend Nicolas Cage's agent, and would later land the part of Glen Lantz in A Nightmare on Elm Street.
Final Verdict 
There are definite pros and cons to acting school, and there are also pros and cons to not going.
However, you shouldn't feel disheartened if you can't go to acting school, or if you're currently pursuing a different route.
Many famous actors didn't have a formal acting education, and most of the time with acting, it's a matter of luck, hard work, and making as many connections as you can.