When selecting a college for acting, look carefully at the course criteria, classes, and success of alumni. Your success is dependent on the fact that you are well-suited to the college and that the course meets your needs.
If you are looking for the best-ranked college for acting, it is the Juilliard School. Mostly just known as Julliard, it is the number one choice of college in the world for acting, priding itself on being a "world leader in performing arts education". However, it is infamously difficult to acquire a place due to its exceptionally high standards and world-class reputation.
Famous actors who have graduated from Juilliard include Anthony Mackie, Jessica Chastain, Wendell Pierce, Christine Baranski, and Viola Davis, to name a few. The acceptance rate is low at around 7%. If you are applying to Juilliard, you will need the most competitive application with the best GPA and SAT score.
The key to getting an audition is to make your application stand out from the rest of the applicants. This will not be easy as the school receives thousands of applications. It is worth considering that many who apply to Juilliard for acting, already have undertaken a Bachelor's degree elsewhere.
This shows dedication, life experience, and an ability to undertake studies successfully at a college level. You should consider funding for your studies before applying as Juilliard fees run just below $69,000 per year.
Whichever colleges you decide to apply for, you will also have to factor in accommodation, living expenses, and travel costs (with little- if any- time to work) so it is worth checking if you would be eligible for financial aid.
The other four colleges in the top five for acting in the world are Tisch School of the Arts, New York; Royal Academy of Dramatic Arts, London, England; Guildhall School of Music and Drama, London; California Institute of the Arts, Valencia.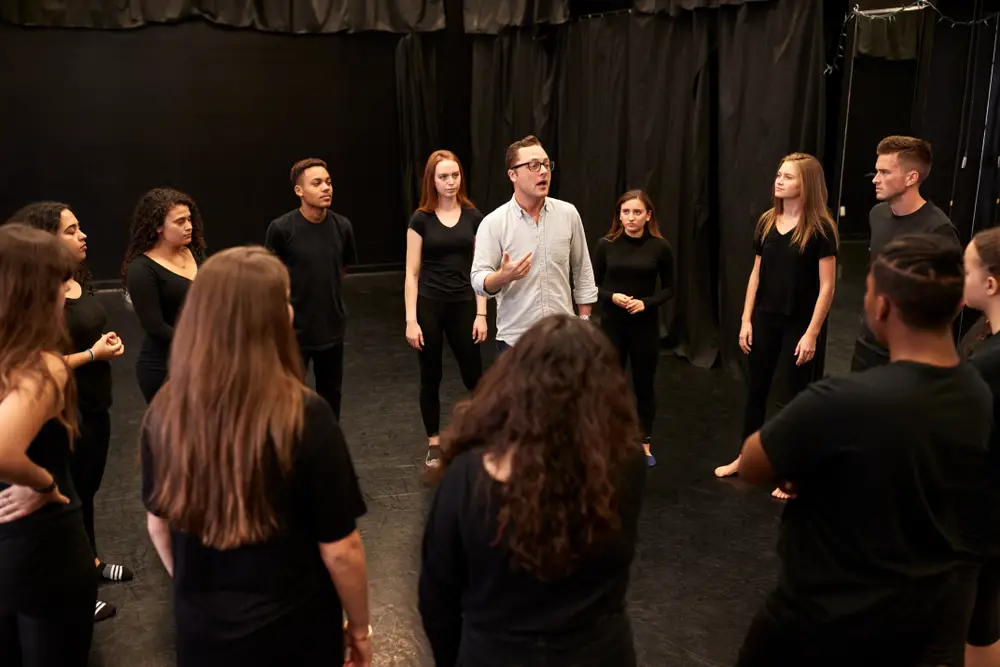 Which course is best for acting?
Having a degree under your belt will help you to gain an advantage if you plan on applying to the top colleges for acting.
However, there are also an array of courses available that will help you on your way. Acting classes can help boost confidence, refine acting style, and gain acting opportunities.
There are also a vast amount of online resources and courses that can help you better understand acting, the film industry, and the stage.
If it is stage acting you are interested in, singing and dancing lessons may also be beneficial. Stage combat is useful for an array of small stunts for both stage and screen.
Which degree is best for acting?
There is a range of degree choices available that will help you to achieve your goal of becoming an actor. You can apply to study fine arts, drama, or theatre studies if you are looking to go for a more traditional route.
If you are interested in stage acting, there are also several aspects to stage work that may be interesting to you. For example, stage management, costume design, and set design are all separate courses you can take. You may wish to incorporate some of these classes into your degree for a more rounded experience.
Similarly, screenwriting and directing will help you to understand how productions are developed from another angle rather than that of an actor. Typically, it can take a while to break through in acting so it is always worth having a degree behind you that will help you have a career to "fall back on".
A number of the top colleges like you to have a degree behind you to show your dedication and ability before you apply. It will also help you to stand out from the crowd. 
A degree in communications, film studies, or media studies will help you to expand your options and increase your employability. These degrees will still provide beneficial knowledge going forward for you as well. With any of these behind you, you display maturity, choosing practical courses that will support you going forward but that also support your future in the arts.
Which country is best for acting?
As you might expect, it is held that the United States is the best country for acting. The US has largely dominated the global film industry since the golden age of Hollywood.
America is also home to three of the top five colleges in the world for acting. Atlanta, Georgia has become a hub of international film making in the last decade and its reputation is continuing to grow rapidly in the industry.
Broadway in New York City is the ultimate goal for many stage actors out there looking to make a name for themselves. Whilst the United Kingdom and Canada are following in America's footsteps and growing their film industries, the United States still remains the country with the most opportunities for success for actors today.