When we consider what to study at college, we often turn to jobs. We're told to ensure our degrees are 'employable', versatile, and useful. If you have a love of acting and performing arts, you might be wondering what you can do with a BA in acting.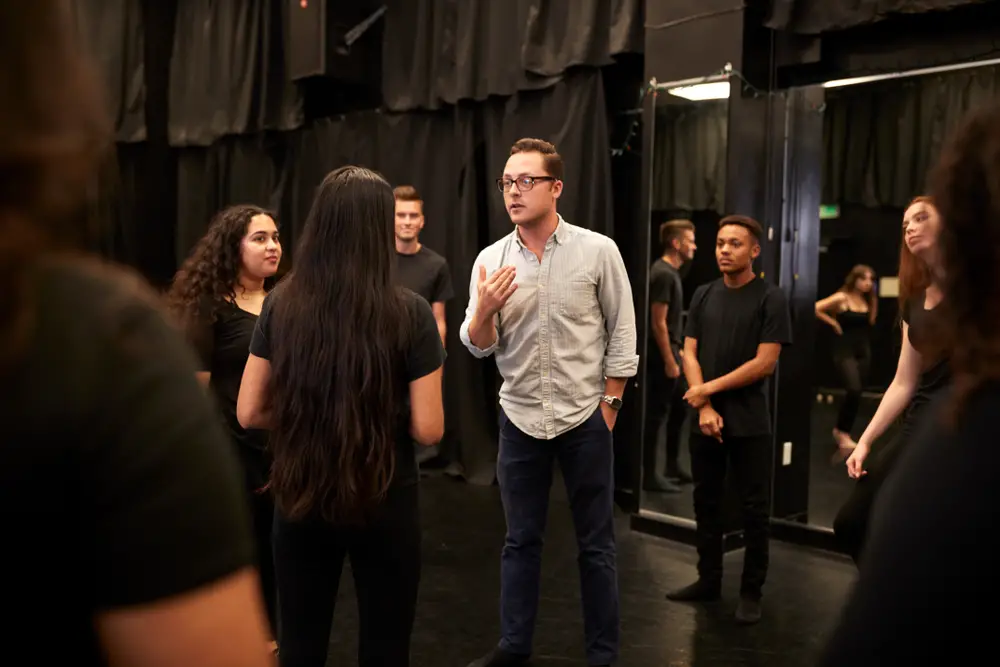 A BA in acting is actually more diverse than you may think. Graduates of performing arts go on to act, teach, or work in other areas of the arts, either in stage management and direction or art administration. Before we go into more detail about these roles, let's first take a look at the specificities of a BA in acting…
What is a BA in acting?
Programs will differ between colleges, but generally, a Bachelor of the Arts in Acting will offer a combination of acting theory and methodical approaches and will be aimed at helping you build a solid foundation to become an actor or build a career in another area of the industry. BAs in acting usually adopt an artistic approach to teaching with plenty of group work and personal mentoring. Typically, you can expect to gain plenty of experience through scene work, enactment and film acting. Most courses will also offer tuition which focuses on speech formation, situational speech, breathing techniques, and vocal training, while you're also likely to gain a theoretical grounding of the history of theatre and film to underpin your practical work. The best programs will offer practical projects where you get to collaborate with professionals in the industry, so as to provide you with vital experience and contacts for when you graduate.
What jobs can drama get you?
Actor
If you're lucky enough, your drama degree will help you become a professional actor. This isn't because drama school is necessary for an actor, but more because a degree in acting can help you hone your craft. Whether you're aiming to work on stage, television, or in movies, drama school will help you interpret a script, which is of course the main role of an actor. You'll need to be able to immerse yourself in a character's state of mind, channeling their tone of voice, body language, facial expressions and mannerisms, and other cues to convey their personality. That said, it can be difficult to find steady work as an actor, regardless of which industry you're focused on. It takes persistence, patience, and a very strong work ethic, so be prepared to do other jobs alongside auditions, as you'll need to build up as much experience as possible before you bag yourself an agent and bigger roles.
Arts Administrator
If you have a business mind and a passion for performing arts, working as an administrator in the arts could be a vibrant and interesting role for you. Arts administrators can be found in a myriad of organizations from ballet companies, to musical groups and orchestras, art galleries, and museums. You'll also find them in theatre productions, too. They're usually involved in the business side of the organization and play an essential role in keeping things running smoothly. Some Arts Administrators will also handle marketing and promoting productions on social media.
They may also be responsible for financial aspects such as fundraising and budgeting. This is a versatile role that usually manages a variety of tasks.
Theatre Director
Some actors end up as theatre directors, which is a great role, and it's one that may even offer the opportunity to write and act in the play you're directing. Theatre directors are mainly responsible for instructing actors on set and pushing them to reach their potential. If you're somebody with strong communication and leadership skills, this may be an ideal position for you. Look out for opportunities at community arts or theatre groups at first, and, once you've gained more directing experience, you can start looking for roles in more significant productions.
Theatre Stage Manager
If you're somebody interested in being behind-the-scenes as well as on stage, you might find stage management to be a suitable career. Stage managers work alongside stage directors, coordinating everyone from the stagehands to lighting technicians, and ensuring the director's orders are carried out.Stage Managers need great communication and organization skills, as their main role is to liaise between the director and everyone else in the production.
Acting Coach or Drama Teacher
Some acting graduates go on to teach others acting, whether it's in schools, community theatre classes, or one-on-one coaching. This could be teaching a variety of ages, from little kids to adults who are studying acting as a hobby. This is ideal if you're someone who takes pride in the technicalities of acting, from breathing techniques to speech formation. If you're somebody who has an upbeat personality, excellent communication and listening skills, and strong attention to detail, you could make a great teacher.